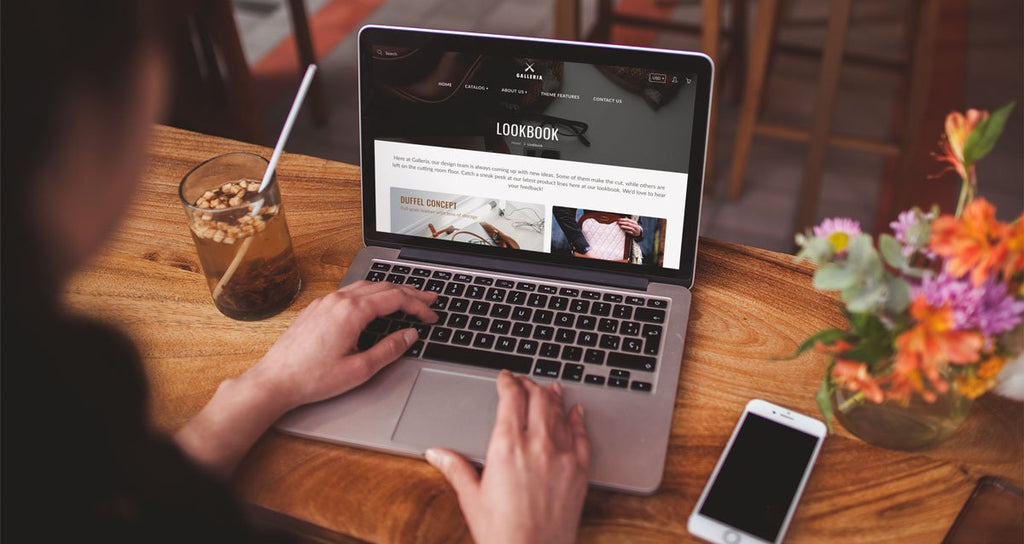 Introducing Galleria 2.0 - Completely Redesigned from the Ground Up!
After 8+ months of intense work, collaboration, and multiple rounds of review scrutiny from Shopify's design team, we are beyond excited to introduce version 2.0 of our Galleria premium Shopify theme.  To say this is a major theme update would be an understatement -- the theme has been completely reimagined from bottom to top, and we think you'll appreciate the results!
So what's new?
Plenty.  First and foremost, we went back to the drawing board with the design of all home page sections, pages, products, collections, everything.  We'll go into more detail below, but for those who are a bit more visual, you might appreciate the video overview below.

In addition to the design changes, we've added new sections on the home page and repurposed all the existing ones with new and more flexible options.
New Gallery
The feature we're probably most proud of in this new theme version is the new gallery section for the home page.  It is extremely unique and flexible, with loads of options to lay out a beautiful grid of images.  We've created a separate video that shows how to set this up.
Completely Redesigned Demos
We've scrapped our three previous theme demos and started from scratch with them.  They each show off some of the striking new design elements in Galleria 2.0.  We still have Empire, a large-inventory tech bags demo, Boutique, a low-to-medium inventory fashion demo, and Showroom, a medium inventory office furniture demo.
Useful New Page Templates
Galleria 2.0 now includes four custom page templates, including:
Lookbook - create a stunning gallery on any page
List Collections - allows you to feature a subset of collections on a page
FAQ - create a questions and answers page easily in an accordion format
Contact - A contact form with a Google map to help visitors find your physical storefront
More Flexible Section Layouts
In addition to the sleeker designs, we've added lots of new layout and color options to most home page sections.  For example, featured collections can be laid out as circles, squares, portrait images, or landscape images.  Many sections can be full width, or divided in half with text next to images.  Color options have been added so you can differentiate similar content with color.
Speed Enhancements
We've taken several steps to improve load times.  All images throughout the theme are now lazy-loaded, which means they only load as they become visible in the viewport.  In addition, we've optimized the quick view function so the content loads only when it's triggered instead of in the background.  These changes result in a snappier, more responsive experience for your customers.
Mobile Optimization
Most themes stack all content on the home page on top of itself.  So if your home page contains sections like featured products, an Instagram feed, six testimonials, and four featured blog posts, your users will need to endlessly scroll to see all your content.  To combat this, Galleria 2.0 intelligently converts many sections into swipe-able carousels on mobile so users can choose the content they want to see.  The result is a much simpler and cleaner user interface.
Improved Typography
Studies have shown that long blocks of wide text is difficult to read.  We've optimized pages and blog posts by offering options to selectively enlarge text in these areas as well as control the width of the paragraphs.  This results in a more comfortable reading experience for your customers.
Much more!
We've worked hard to try and make Galleria 2.0 one of the most dynamic and feature-rich themes available for Shopify.  We hope you enjoy all design and feature improvements.  We welcome your feedback on it, so please don't hesitate to contact us with any comments or questions.  Please also keep in mind that you can download a demo of the theme for free from the Shopify theme store and try out all the settings and options.  We're confident you'll be very pleased with all the options!